The collaborative economy is moving from early youth, which began in 2009, to maturity in 2019. Over the past decade, many companies using this business model have embarked on and carried out global expansion. Some have raised billions in funding, many have sold their shares in public offerings and went public. They have turned from promising startups to world giants.
Today we present to you the third edition of the Polish Honeycomb Collaborative Economy (CE HC 3.0), i.e. a list of startups using innovative business models based on cooperation.
Go up faster and faster
In the first Polish edition of CE HC 1.0 in 2016, together with Piotr Kowalski from Jadezabiore.pl, we identified 36 companies operating based on the principles of collaborative economy. A year later, there were 123 of them in Poland. In this edition, we already have over 250 such entities. The growth rate is 697 percent. for the last three years, and in the last year the number of companies has doubled.
As in previous editions, the three fastest growing CE sectors in Poland are finance, transport and real estate.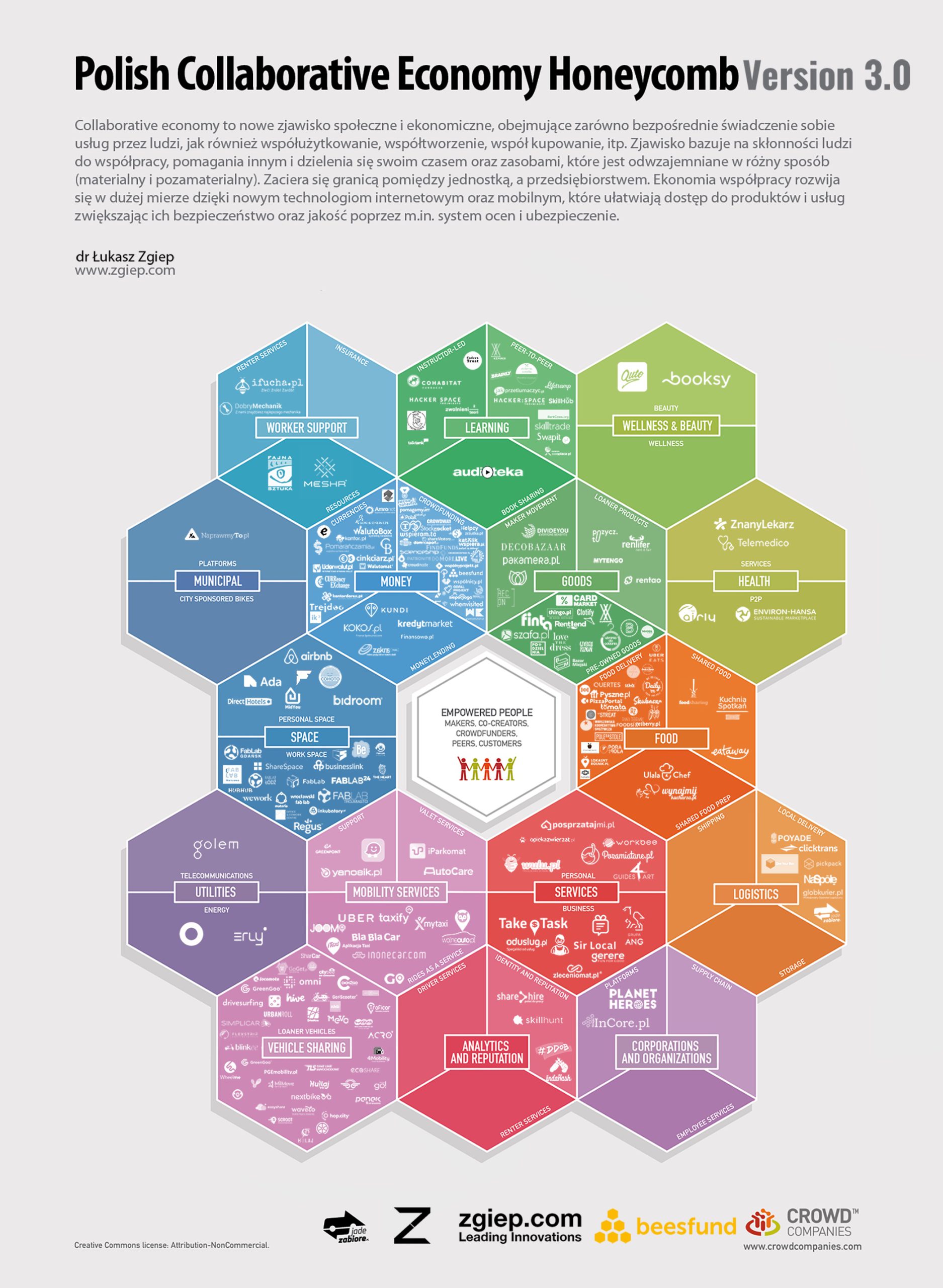 Finance with new limits
Among the financial companies operating in the collaborative economy model, the crowdfunding sector has grown the most dynamically. Companies such as Patronite and Beesfund are developing particularly fast. The popularity of subscription crowdfunding is related to the increase in the offer of content created by independent creators. In recent weeks, a famous example was the film "Just do not tell anyone" by Tomasz Sekielski, which as of the publication date attracted over 22 million viewers. Over 3,400 people have decided to provide, via the patronite.pl platform, a total of over 127,000. PLN to the author's account to create more content.
The reason for the dynamic development of equity crowdfunding is the introduction of European Union regulations in Poland. From August 2018, the share issue limit under this service was increased from 100,000. euro up to 1 million euro. Thanks to the new regulations, the Wisła Kraków football club obtained PLN 4 million from over 9 thousand. investors in just 24 hours. Another example is the Jastrzębie Brewery, which has collected nearly PLN 4 million from over 4,400 investors.
Rough transport
CE HC 2.0 belonged to electric scooters, then there were three Polish startups providing the scooter sharing service. The third edition is mainly innovation in the electric scooter sector. Seven new systems have appeared in Poland (Lime, Bird, Hive, Quick, Blinkee, Hulaj, Citybee), and the entry into this market is thought of, among others, by Acro Bike, Hop.city or DAV. Electric scooters are a topic that arouses a lot of emotions, but in the future, accounts in scooter sharing systems may become a gateway to comprehensive urban mobility services. I think that is what the fight is about here and investors see a unique opportunity.
Everyone with everyone
The development of business models based on the sharing economy patterns is a global trend related to the progressive platformization of the economy. More and more companies want to provide services as collaborative economy platforms. At the same time, the offered solutions are becoming more and more mature. An important catalyst for the development of this segment of the global economy was the emergence of blockchain technology, which significantly expanded the possibilities of providing and billing P2P services, i.e. "everyone with everyone". It is worth mentioning new trends such as zero waste or circular economy, which are very often used by CE models. An interesting comparison was made recently by prof. Bolesław Rok in his report "Startups of a positive impact", in which he identified over 350 projects of this type, which aim to exert a positive impact on the development of humanity.
Subsequent editions
To download Honeycomb in high definition, even printable click here, you will also have access to the full zgiep.com knowledge base.
If this list is interesting for you, I encourage you to share it on the web and nomen omen to share your knowledge with your friends!
Cheers,
LSZ